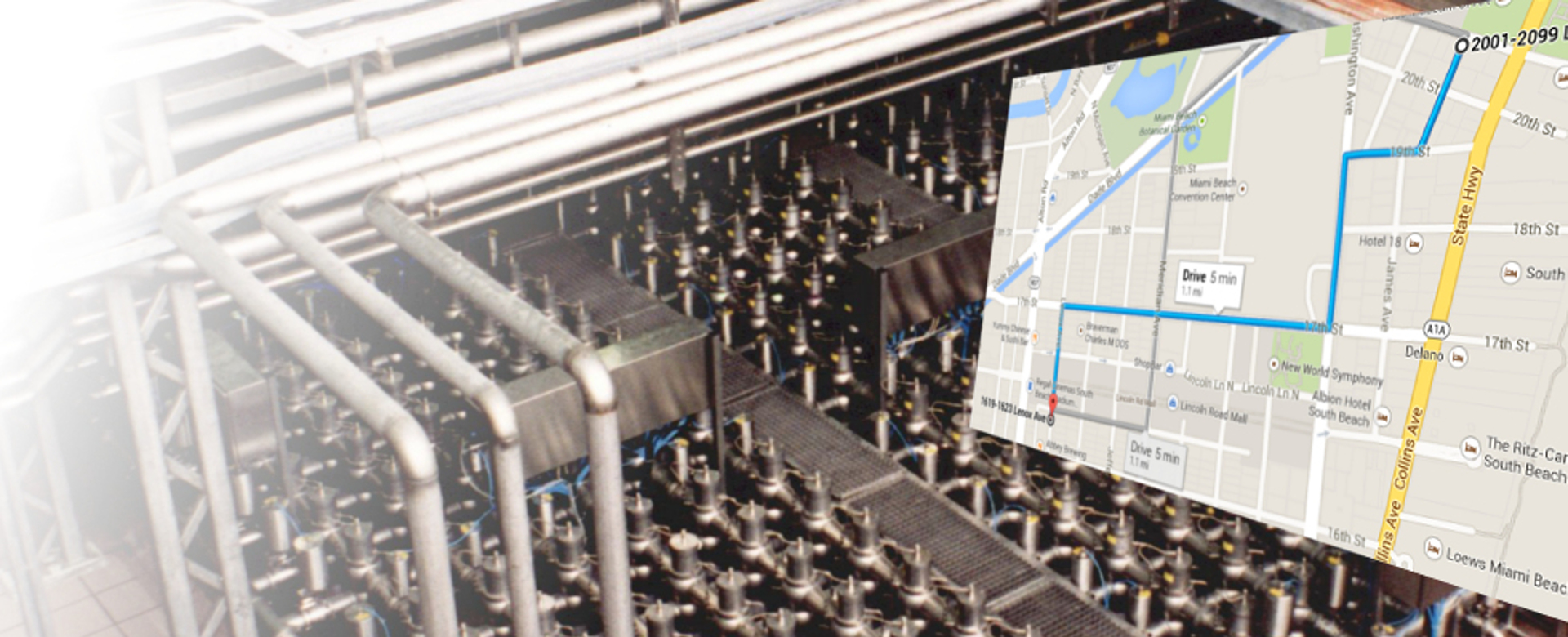 Drive safely with RCS!
Similar to a GPS navigator,
the Route Control System provides
safe and fast transit of product and chemicals (
CIP
)
throughout your brewery.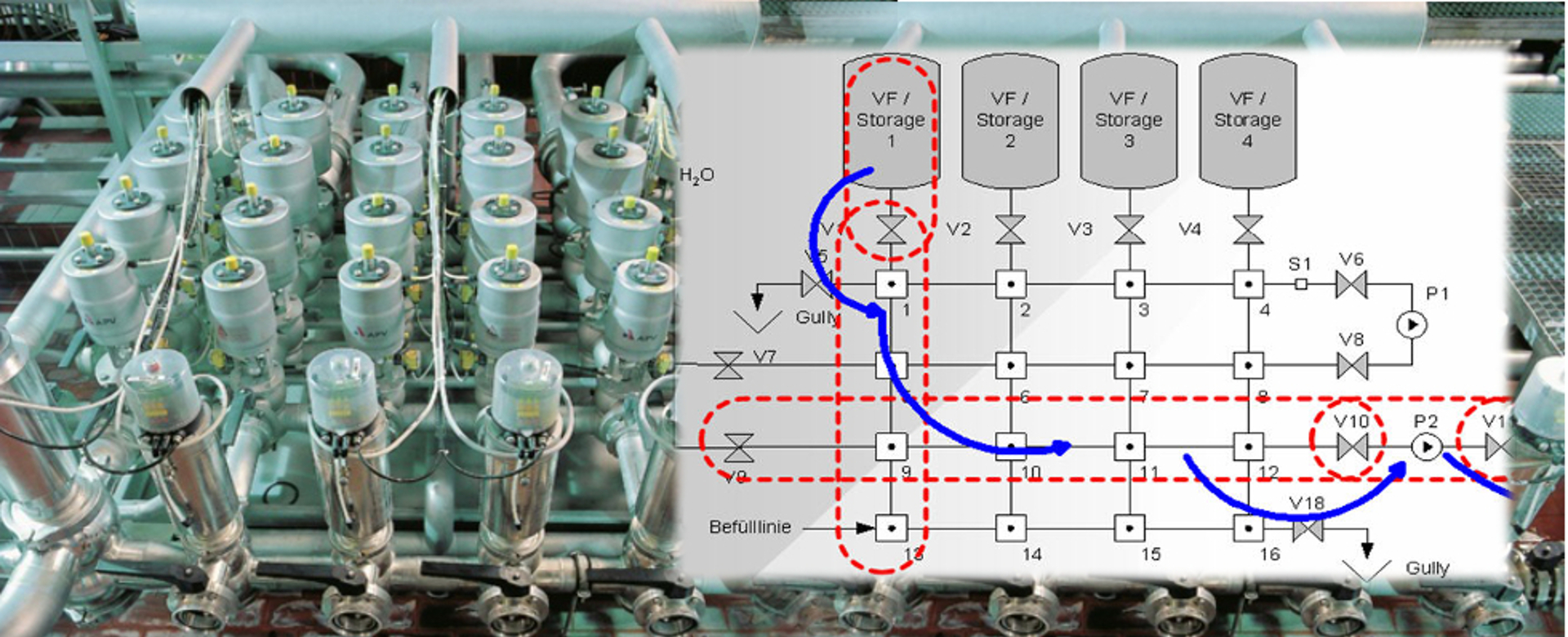 Route Management Made Easy
Standard Tool to simply manage
complex routes throughout the plant.
SIMATIC Route Control Highlights
If you have used electronic route planners (such as Google™ Maps, or MapQuest®), then you already know what we are talking about: You select the starting point "A" and the destination "B", and perhaps also the shortest/fastest/available path, and your route is provided at the touch of a button.
The route planner is also aware of possible problems, and smart enough to decide whether an alternative route is available to get from "A" to "B".
The SIMATIC Route Control System (RCS) does the same job for your plant.
Product Safety

Complex transportation systems in the Grain Handling areas, or piping systems like the ones found in cellars, involving complex cleaning circuits (i.e. CIP), typically involve a very large amount of valves and pumps that need to be activated and constantly monitored to avoid unwanted product mixtures, or even worse, unwanted mixing of product with dangerous cleaning chemicals.

Use RCS as a tool to fulfill your critical control point monitoring requirements.

Reduced Total Ownership Costs

RCS' high degree of standardization exhibits a proven track record of reducing not only initial project costs, but also ongoing maintenance and expansion costs.

A standard engineering environment ensures consistent configuration, fast deployments and simplified administration of routes while drastically reducing troubleshooting times.

Worldwide Support

SIEMENS and its affiliates are represented in nearly 190 countries, providing worldwide support for all of its products.

Long-lasting Investment

SIEMENS and its subsidiaries employ approximately 370,000 people across nearly 190 countries and reported global revenue of approximately 78.3 billion Euros for the year of 2012.

Regardless the size of your business, SIEMENS' strong commitment for a continued product development and worldwide support ensures that RCS' highly scalable architecture will continue to adapt to your ever growing business requirements.

Highly Scalable | Start Small & Grow Large

RCS can be used in applications starting with one (1) Operator Station and one (1) PLC, and can be scaled up to large systems encompassing a virtually unlimited amount of Operator Stations and PLC's.

Robust & Reliable

RCS is based on robust and reliable hardware, namely the SIMATIC S7-400 series of Programmable Logic Controllers (PLC) and the SIMATIC IPC series of industrial computers.

The SIMATIC S7-400 series is the most powerful Automation System within the SIMATIC family. A graded range of CPUs enables scalable performance, while the capacity for I/O periphery is virtually unlimited.

The SIMATIC IPC series are rugged and expandable industrial PCs, offering high investment protection thanks to outstanding long-term availability and ensuring reliable operation even in particularly harsh industrial environments, e.g. with high dust, temperature and shock loads.

Predictable Performance

A high level of integration of software and hardware components allows RCS' technological functions to be executed at predictable time intervals, leading to a responsive user experience and process control.

Greater Independence | Open & Transparent

As opposed to those solutions where solution providers virtually own the Process Control Software, creating a relationship of dependency with its End Customers, RCS is a standard product which ensures that the software solutions are engineered in adherence to rules and best practices, which are well documented and available to everyone.

This ensures that the End Customer can take full ownership of the software controlling its process, while having access to a pool of multiple Vendors to choose from.